Marathon Runner's Bib Coasters
This gift idea is for all of you who have someone in your life who has taken part in a marathon, half marathon, triathlon, or any other activity where the athlete wears an athletes number bib.
A few months ago, my husband decided he was going to run a marathon and he gave himself one year to do it. He set out a series of milestones that he needed to achieve in order to reach his ultimate goal. His first major milestone was to do a half marathon (21.1 km or 13.1 miles) within 3 months of starting running.
I was and am so proud of how hard he worked to complete his first half marathon in under 2 hours and I knew I wanted to do something special with his runner's bib.
I was at Habitat for Humanity and they had these amazingly beautiful Carrera marble 4x4 inch tiles for $0.40 each. I quickly scooped up every single one that was not chipped and almost ran out the door screaming "start the car". For $1.60, I could make a set of 4 beautiful marble coasters. I had my idea for what to do with his running bib.
Materials needed:
4 4x4 inch tiles
Copy of Runner's bib
ModgePodge
Felt protectors
Spray sealant
Method:
I ran to the local copy shop and made a color laser copy of the bib. In the back of my mind I worried that this could be a "seemed like a good idea at the time" project. If I cut up the bib and it didn't work, I would have felt horrible.
I cut the page into quarters and trimmed the edges so that they fit nicely on the tiles. I then ModgePodged the paper onto the tiles so they fit together when the 4 tiles are placed in a square.
I thought the tiles looked a little empty on the top/bottom so I cut out vinyl, with my Cricut, to spell "eat, sleep, breathe, run".
I liked this but wasn't 100% happy with how this looked, so I decided to put the date of the marathon along with my husband's race finish time on the tiles instead. I really like how this looked.
I purchased felt protectors at the Dollar Store and placed 4 on the back of each of the tiles. The funniest part is this step cost half as much as the tiles themselves.
Using Valspar's spray sealant/top coat, I put 3 coats of gloss sealer on each of the tiles. This ensures the paper is waterproof and it will keep the vinyl secured. Plus unsealed marble will stain easily from coffee or wine, so this should protect the marble too.
(I blurred out the numbers)
I am really happy with how these turned out. This project fulfilled my wish to make this a keepsake that will remind my husband of the race every time he looks at them.
Grand total was just over $3.00 ($1.60 for the tiles, $1 for the felt protectors, $0.50 for the photocopy, I had the vinyl, sealant and ModgePodge on hand).
I hope this helps you with your Christmas list. If you don't know anyone this applies to, be sure to check out the
FGI (Frugal Gift Ideas) page
to see all the other gift ideas I have made over the past year.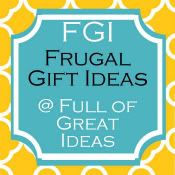 Can you think of any other ways to use this? Anyone else have a collection of sporting items that they have no idea what to do with?
Have a great week.
Stephanie